Modern and Funky Invitations with Cheery Orange Details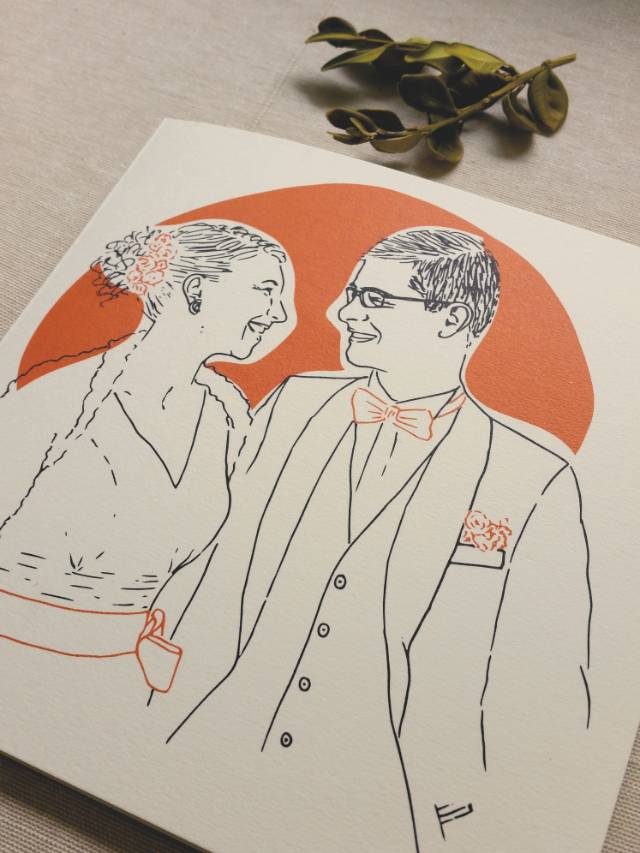 These funky and modern wedding invitations and "Thank You" cards really reflect the character of the lovely couple, Emilie and André. Orange, their favourite colour, and the simple and sweet design complimented their wedding – an informal ceremony held outside, followed by a reception in a gorgeous event space that used to be a factory.
This warm-hearted suite is full of special details. The invitations and "Thank You" cards are in two languages, German and French. While this initially presented a design challenge (a lot of words!), a hand-drawn timeline on the invites enabled us to incorporate all the information in a very visual manner. It was the bride's idea to make a hand-drawing of themselves for the thank you cards, which she did herself using one of their wedding photos. To provide continuity with the invitations and "Thank You" cards, we added an orange bubble in the background and little orange elements in the couple's attire, like the groom's bow tie and the flowers in the bride's hair.
The stationery was flat printed to provide a modern feeling on extra-thick Italian Materica paper. Craft envelopes provided a contrast to the cream velvety texture of the paper and added a rustic touch.
This bright and cheery theme with orange details reflects the bride and groom's character and personalities. Furthermore, this suite is a true collaboration between the bride and groom, the designer Murielle Boillat, and https://www.invitesandco.com/, with design ideas originating from all three and complementing each other! We are very happy with the end result, which is as warm-hearted and genuine as the wedding itself.