Wanderlust: Destination Weddings and Passport-Style Invitations
Are you dreaming of a wedding that takes you on an unforgettable journey? A destination wedding allows you to exchange vows in a breathtaking location, surrounded by the beauty of nature or immersed in a different culture. Whether it's the romantic charm of Italy, the pristine beaches of an exotic island, or any other dream destination, your Big Day becomes an adventure of a lifetime. At Invites & Co, we specialize in creating passport-style digital invitations with RSVP that perfectly capture the spirit of destination weddings. Let's dive into the world of wanderlust and discover how our unique invitations can make your wedding truly remarkable.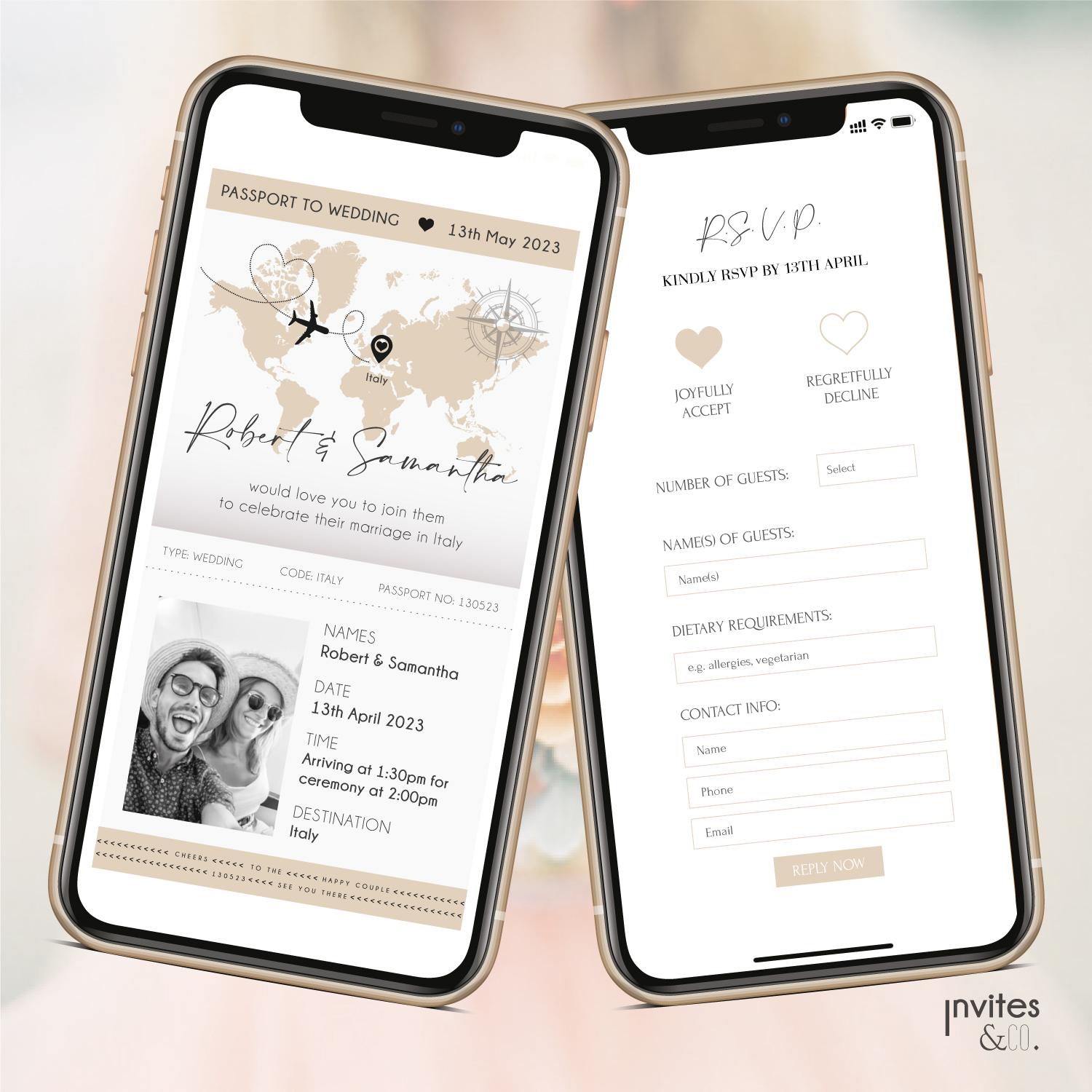 ✈️ Ready for an adventure? ✈️
As you embark on the journey towards your wedding day, why not set the tone with a passport-style invitation? Our digital invitations with RSVP are designed to evoke the excitement of travel and exploration. These unique and stylish invitations are like mini-websites, providing all the necessary details for your guests to join you on your special day.
Imagine scrolling through the pages of a passport-inspired invitation that showcases the destination, travel information, accommodation options, and even highlights local attractions or cultural experiences. It's more than just an invitation; it's an experience that sets the stage for an unforgettable wedding celebration.
At Invites & Co, we understand the importance of personalization. Our passport-style invitations can be customized to reflect your chosen destination, incorporating elements like maps, iconic landmarks, or even stamps that symbolize the countries or cities you're exploring together. Each invitation will help your guests imagine the extraordinary journey they will embark on when they attend your wedding.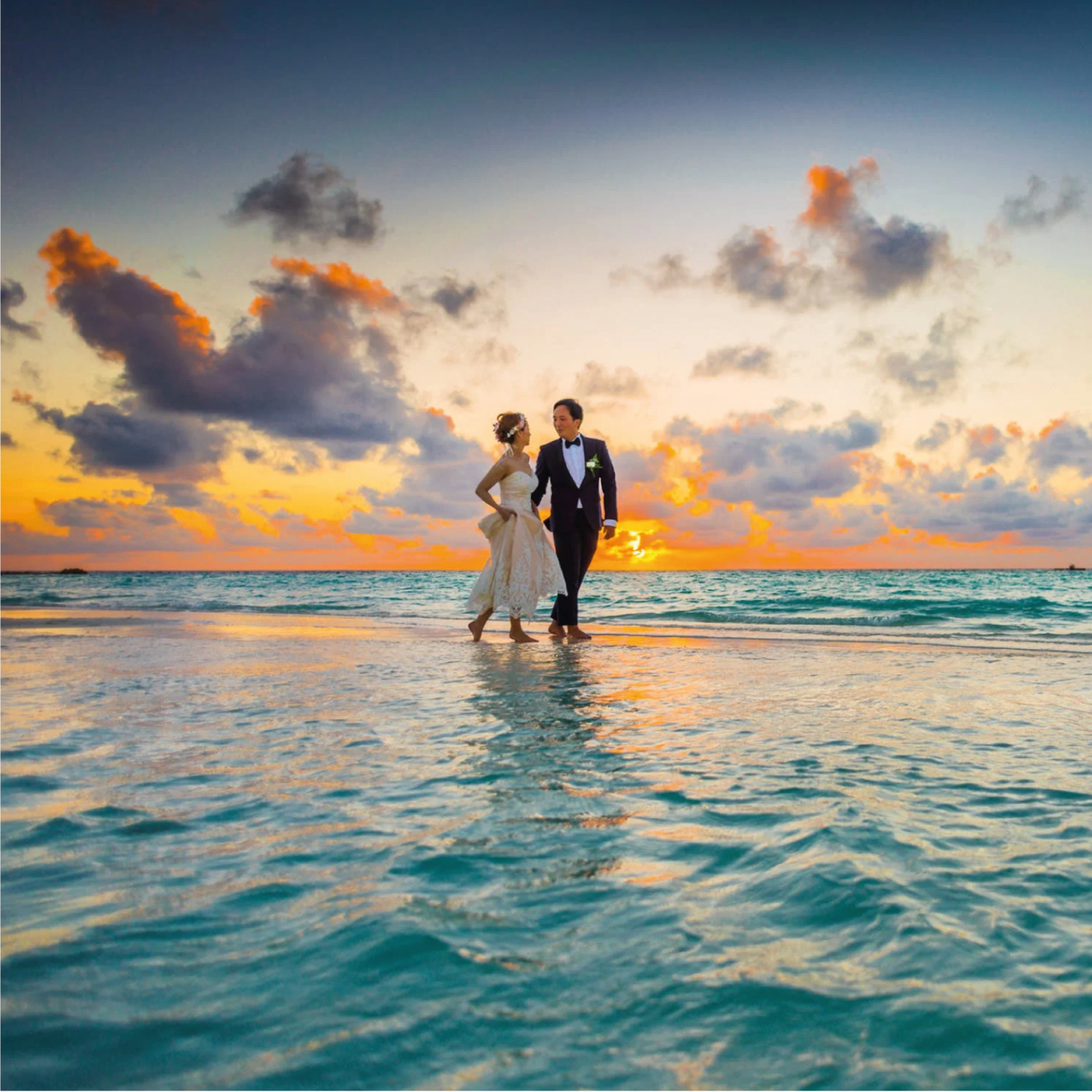 ✨💍 Ideal Destination ✨💍
Your wedding day is a chance to embark on a romantic adventure, and choosing the perfect destination adds an extra layer of magic to the celebration. One destination that captures this dreamlike atmosphere is the breathtaking Maldives. Imagine saying your vows on a pristine sandy beach with turquoise waters stretching as far as the eye can see. The photo of a beautiful bride and groom in the Maldives perfectly encapsulates the serene and picturesque setting that awaits couples who choose this tropical paradise.
For those seeking a blend of natural beauty and cultural richness, Santorini in Greece offers a captivating setting. Known for its stunning sunsets, white-washed buildings, and panoramic views of the Aegean Sea, Santorini exudes an undeniable charm. Picture exchanging vows overlooking the iconic blue-domed churches or celebrating with a traditional Greek feast in a cliffside venue. A wedding in Santorini promises a romantic and idyllic experience that will be cherished for a lifetime.
Another enchanting destination for a wedding is the romantic city of Paris, often referred to as the "City of Love." The timeless beauty of the Eiffel Tower, the charming streets of Montmartre, and the exquisite cuisine make Paris an ideal choice for couples seeking a classic and elegant wedding. Imagine exchanging vows in a hidden courtyard or hosting a grand reception in a historic chateau. A Parisian wedding is sure to leave a lasting impression on everyone in attendance.
These are just a few examples of the countless destinations that can turn your wedding into an extraordinary experience. At Invites & Co, we've had the privilege of working with many couples who have chosen destination weddings, including the stunning Maldives, Dubai, Italy, France and the Caribbean. Our digital invitations with RSVP perfectly complement the spirit of these destination celebrations, adding a touch of fun and excitement to your wedding journey. We can also create custom designs that will perfectly match your wedding theme, or you can chose from the many designs that are already available.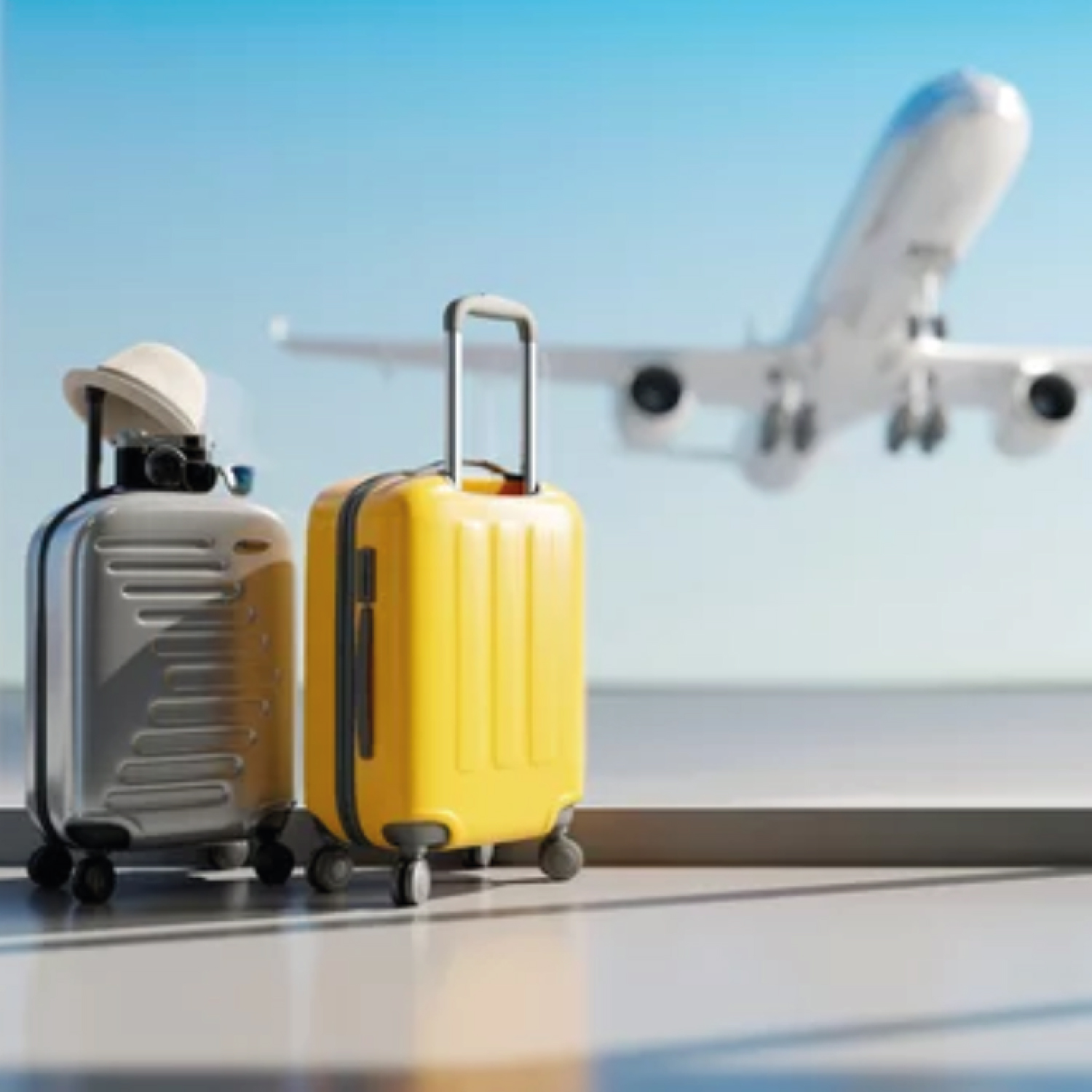 🌍 Let Your Love Take You Places 🌍
When planning a destination wedding, there are several important factors to consider to ensure a seamless and memorable experience. First and foremost, research and select the perfect location that aligns with your vision and preferences. Look for venues that offer wedding packages or have experience hosting destination weddings. Take into account the availability of accommodations for your guests, ensuring there are suitable options nearby.
Stay organized by creating a detailed itinerary and timeline, keeping in mind travel logistics, including flights, visas, and transportation for you and your guests. Communication is key, so keep your guests well-informed about the destination, including any cultural considerations or unique customs.
Lastly, don't forget to take advantage of professional wedding planners or coordinators who specialize in destination weddings, as they can alleviate stress and assist with all the intricate details of planning your dream wedding in a faraway location.
At Invites & Co, we are passionate about working with couples who have chosen to celebrate their love through destination weddings. Our digital invitations are a favorite among these couples, perfectly complementing the adventurous spirit of their celebrations and adding a touch of fun to the affair. We understand that each destination has its unique charm, and our customizable invitations can reflect the essence of your chosen location and style!