Bespoke Digital Invitation & RSVP for Weddings and other Occasions
Our product is like a mini-website: your invite will be on it and your RSVP. You can send the URL to your guests per e-mail, WhatsApp or text. But the best thing – we do it all for you, from design to set up!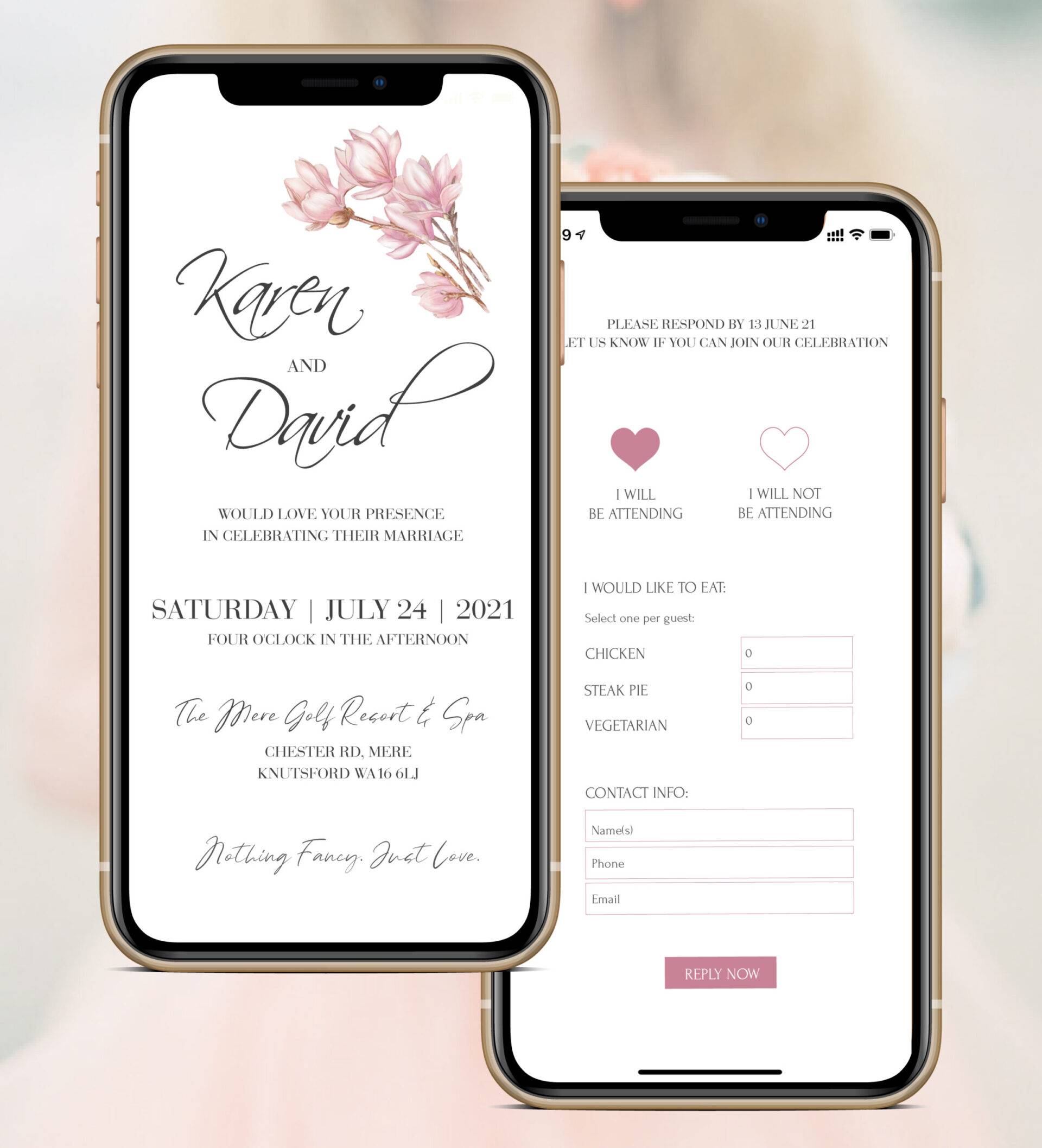 Invite & RSVP: £50
Day and Night Invites & RSVP: £70
We will create your unique design
Rather than offering you DIY online software, we will create a unique design just for you and set it all up! No wedding is the same, and we will customize your invite to include your flowers, colors, monogram, your wedding menu or additional RSVP questions!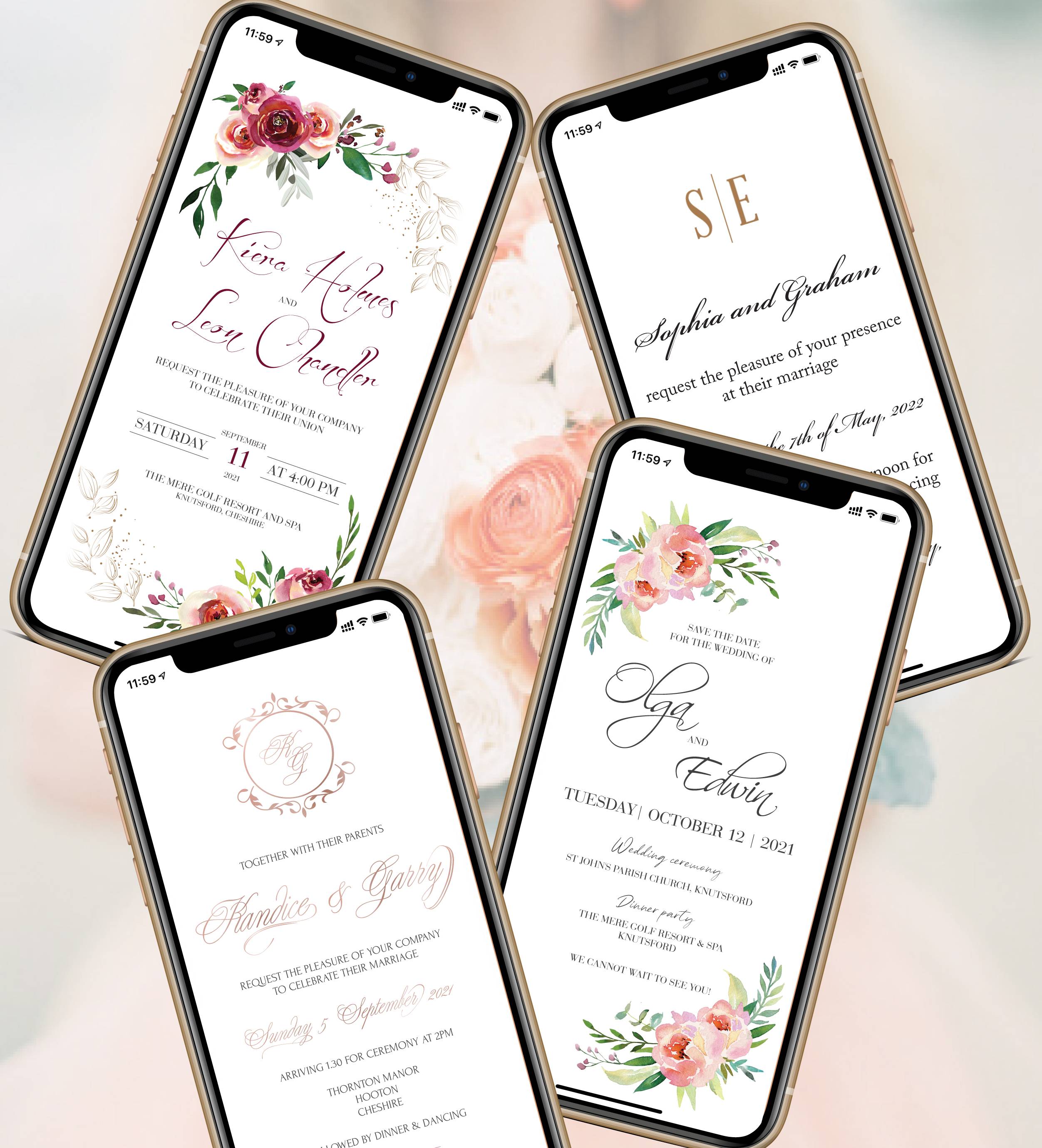 We will customize the RSVP form to include what you need: whether your menu choices, dietary requirements or night transportation. No limit to how many guests reply!
We are happy to include for free almost anything that is text-based: an info section, your favorite poem, a simple (text) timeline for your wedding & a link to your registry! We can also do a beautiful customized visual timeline for a small fee. 
We do day and night invites, it is like two separate web pages with different invites and RSVP forms. You can send the relevant URL to your day and night guests per e-mail or WhatsApp or text. The cost for an additional invite  & RSVP in the same design is GBP20. 
Send to as Many Guests as You Want and View on any Device
There is no limit to how many guests you can send your invite and how many guests can RSVP! Also, your guests can view your mini-website on any device: laptop, tablet or phone.
View RSVPs Online or Download
You will get admin access to your site so you can view RSVPs and download the spreadsheets with the responses. You can also get an email every time someone responds. 
Purchase the product or pay deposit
We will start work once you pay the deposit of GBP20 or your can pay for your product outright. 
EMAIL US ON HELLO@INVITESANDCO.COM
Please provide:
• Your wording
• Changes to RSVP form
• Design Wishes
(It helps to choose a design from our library to base your invite on!)
RECEiVE A DRAFT OF YOUR INVITE
Up to 3 iterations are included. We will work with images at this stage, to ensure we agree on the design prior to setting up your site.
We will set up your website!
The whole process takes as little as 3 working days, depending how fast you provide feedback!
Happy Customers from our Etsy Store

"We have had so many compliments, as no one has done digital invites in our family before. They where very impressed. And Alexandra's customer service is fantastic: she created my own autumnal theme with pumpkins and they looked amazing.."
Jen

"Great service & product"
"Our guests loved the digital invite, and Alexandra went the extra mile for us, helping create our mini websites in three languages and adjusting the design to match our colour scheme. Highly recommend!. "
Olga

"Absolutely amazing service"
"So helpful and so quick. Really pleased and all our guests have said it's a great idea. Would recommend it to everyone! Thanks again! "
Zoe

"I love my digital invitation!"
"Alexandra is a life saver, she created my digital invitation very fast and when I wanted something changed she made it happen. I love my digital invitation. Thank you so much!!"
Kiera